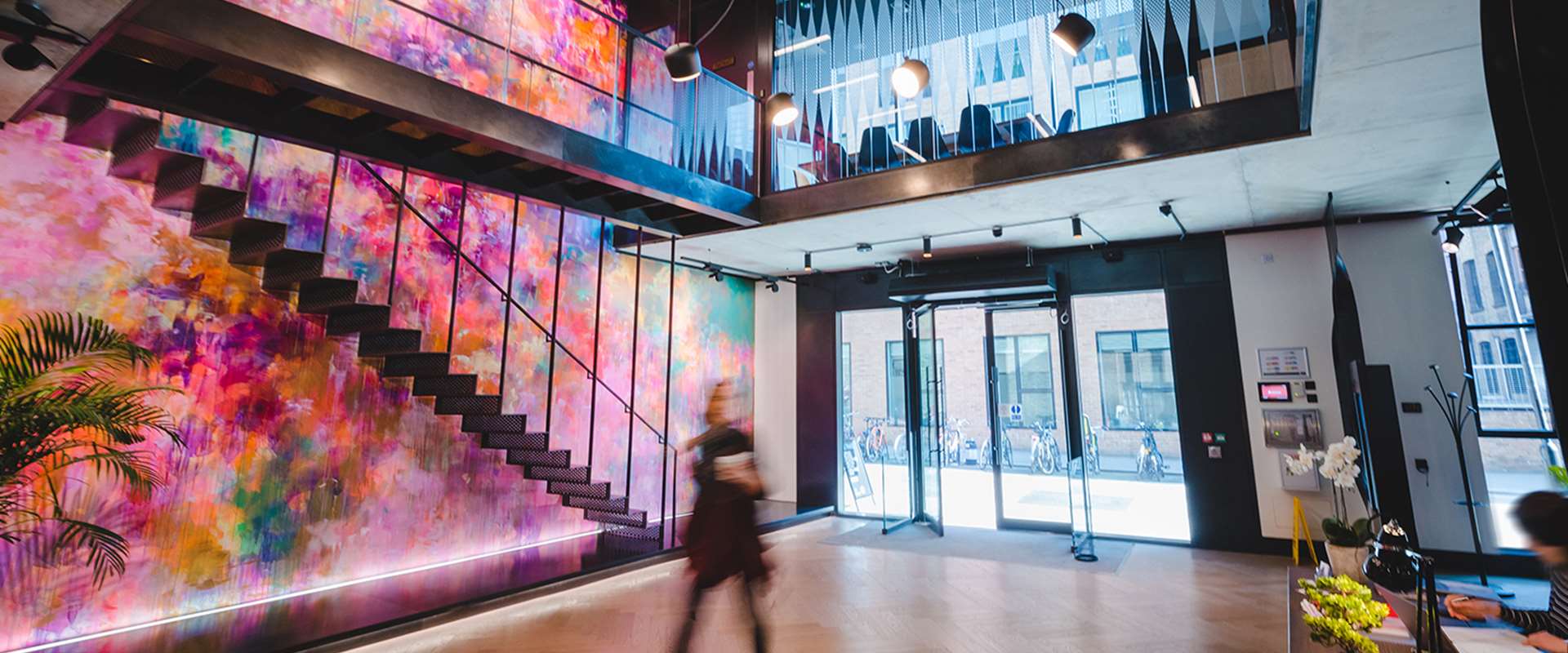 Workspace in london
Mare Street Studios
203/213 Mare Street, Hackney, E8 3JS
London Fields - 4 min walk
Neighbouring London Fields, former Victorian warehouse, Mare Street Studios pays tribute to its roots with an uber-stylish industrial feel.
Lock Studios
7 Corsican Square, E3 3YD
Devons Road - 1 min walk
In the heart of Bow, Lock Studios is perfect if you are East London based or want to be near Canary Wharf or Stratford.
Mirror Works
12 Marshgate Lane, E15 2NH
Pudding Mill Lane - 3 min walk
Mirror Works is a super-modern luxe office building in the action-packed vibrant Stratford neighbourhood of east London.
Pall Mall Deposit
124-128 Barlby Road, Ladbroke Grove, W10 6BL
Ladbroke Grove - 14 min walk
Combining tradition with a modern edge, Pall Mall Deposit attracts a range of multimedia businesses, minutes from Portobello Market.
Fleet Street
154 - 160 Fleet Street, Blackfriars, EC4A 2DQ
City Thameslink - 4 min walk
A remarkable period building, reborn as a modern, lively business hub, midway along London's iconic publishing street.
The Old Dairy
Stapleton House, 110-122 Clifton Street, EC2A 4HT
Old Street - 8 min walk
In the heart of Shoreditch, The Old Dairy offers spacious office spaces, with easy access to Liverpool Street.
East London Works
75 Whitechapel Road, E1 1DU
Aldgate East - 4 min walk
Situated on Whitechapel Road, East London Works houses office, studio and retail space just minutes from the world-famous Brick Lane.
E1 Studios
3-15 Whitechapel Road, E1 1DU
Aldgate East - 2 min walk
Situated on Whitechapel Road, E1 Studios has a mixture of urban and off-beat charm and boasts office, studio and workshop space.
The Frames
1 Phipp Street, EC2A 4PS
Old Street - 8 min walk
A striking architectural landmark in the beating heart of Shoreditch, home to London's burgeoning technology and creative industries.
The Leather Market
Weston Street, SE1 3ER
London Bridge - 7 min walk
This Grade II listed Victorian building was once 'The London Leather, Hide and Wool Exchange' in Bermondsey during the 19th century.
The Biscuit Factory
Drummond Road, SE16 4DG
Bermondsey - 6 min walk
Former factory of biscuit-makers Peek Frean & Co. Ltd, The Biscuit Factory has been reimagined as one of Bermondsey's most creative business hubs.
Clerkenwell Workshops
27/31 Clerkenwell Close, Farringdon, EC1R 0AT
Farringdon - 8 min walk
Former artisan workshop boasting bright, modern offices and a sun-drenched courtyard, in the heart of eclectic Clerkenwell.