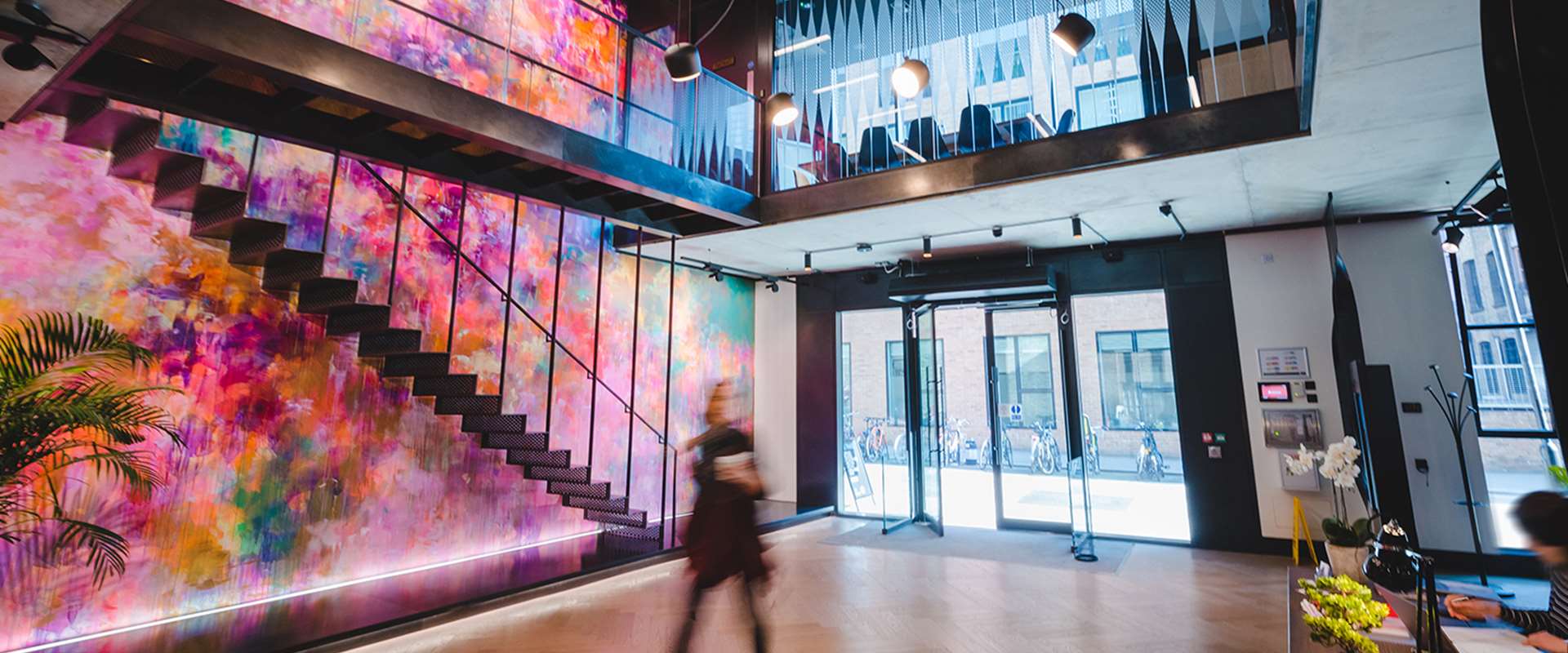 Workspace in london
E1 Studios
3-15 Whitechapel Road, E1 1DU
Aldgate East - 2 min walk
Situated on Whitechapel Road, E1 Studios has a mixture of urban and off-beat charm and boasts office, studio and workshop space.
The Frames
1 Phipp Street, EC2A 4PS
Old Street - 8 min walk
A striking architectural landmark in the beating heart of Shoreditch, home to London's burgeoning technology and creative industries.
The Leather Market
Weston Street, SE1 3ER
London Bridge - 7 min walk
This Grade II listed Victorian building was once 'The London Leather, Hide and Wool Exchange' in Bermondsey during the 19th century.
The Biscuit Factory
Drummond Road, SE16 4DG
Bermondsey - 6 min walk
Former factory of biscuit-makers Peek Frean & Co. Ltd, The Biscuit Factory has been reimagined as one of Bermondsey's most creative business hubs.
Clerkenwell Workshops
27/31 Clerkenwell Close, Farringdon, EC1R 0AT
Farringdon - 8 min walk
Former artisan workshop boasting bright, modern offices and a sun-drenched courtyard, in the heart of eclectic Clerkenwell.
The Record Hall
16-16A Baldwins Gardens, EC1N 7RJ
Chancery Lane - 4 min walk
Former record depository reborn as a striking home to ambitious businesses, minutes from Farringdon and Chancery Lane stations.
The Light Box
111 Power Road, Chiswick, W4 5PY
Gunnersbury - 9 min walk
In between Chiswick Park and Gunnersbury, The Light Box has bright central communal space surrounded by stylish offices and studios.
Canalot Studios
222 Kensal Road, Westbourne Park, W10 5BN
Westbourne Park - 11 min walk
A hub for innovation and start-up energy, Canalot Studios offers industrial-chic spaces minutes from Paddington Station.
Vox Studios
1-45 Durham Street, SE11 5JH
Vauxhall - 6 min walk
Tucked away down a quiet street in the heart of Vauxhall, this reformed Marmite Factory has stunning views across the city.
China Works
Black Prince Road, Vauxhall, SE1 7SJ
Vauxhall - 11 min walk
Charming terracotta building on the banks of the River Thames in Vauxhall, dating back to the 1800's when it was Royal Doulton pottery HQ.
Kennington Park
1 -3 Brixton Road, Oval, SW9 6DE
Oval - 4 min walk
The former home to London's black cabs, now a hive of creativity in a vibrant professional community, minutes from Oval station.
Wenlock Studios
50-52 Wharf Road, Islington, N1 7EU
Angel - 10 min walk
Nestled in leafy Islington, Wenlock Studios offers open-plan offices, a stunning central atrium and beautiful canal views.