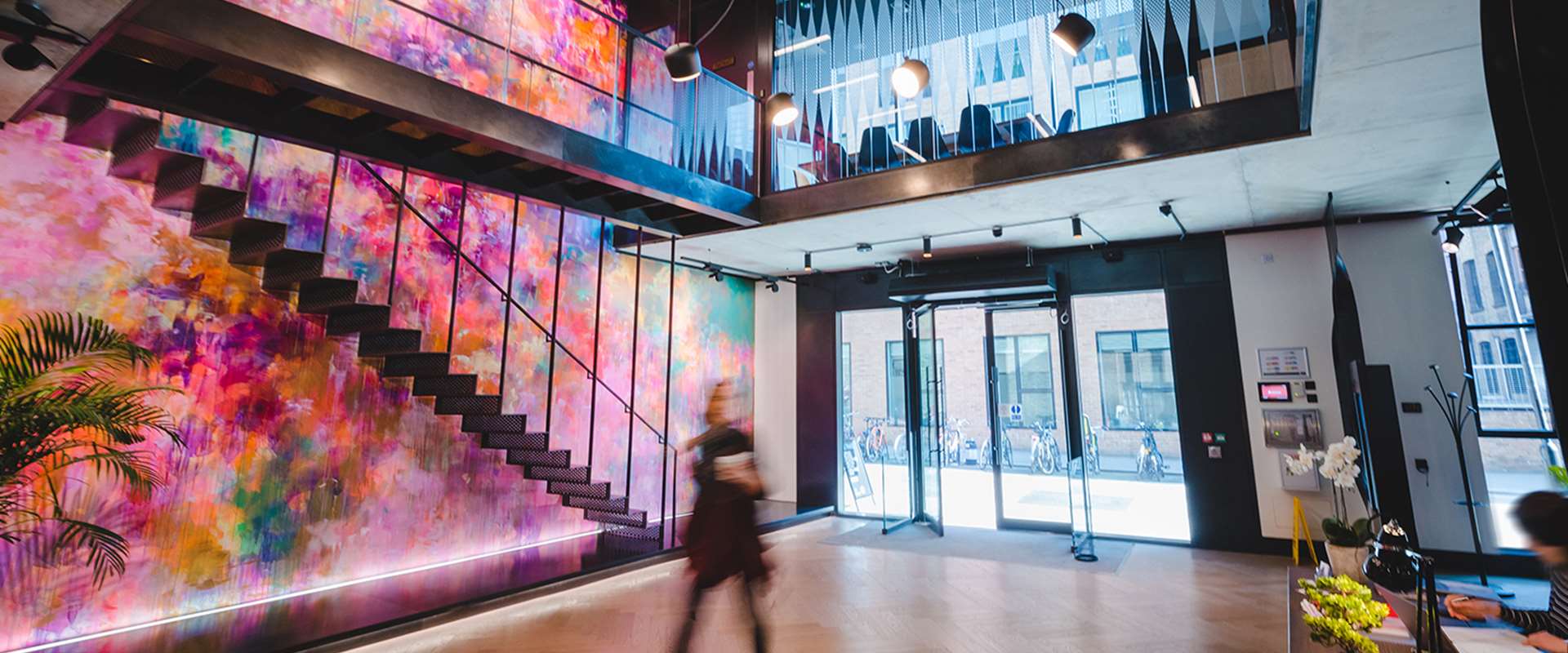 Workspace in london
Pill Box
115 Coventry Road, Bethnal Green, E2 6GG
Bethnal Green - 4 min walk
A former pharmaceutical factory reborn as a hub for small and medium businesses, tucked away in the heart of Bethnal Green.
Metal Box Factory
30 Great Guildford Street, Borough, SE1 0HS
London Bridge - 11 min walk
A former tin box factory redeveloped to create landmark destination for ambitious businesses, minutes from vibrant Bankside.
Westbourne Studios
242 Acklam Road, Portobello, W10 5JJ
Westbourne Park - 5 min walk
Minimalist, modern studios wrapped around a stunning communal atrium, nestled under the Westway in London's famous Portobello.
Brickfields
37 Cremer Street, E2 8HD
Hoxton - 1 min walk
Former metalworks factory, Brickfields, is immersed in the atmosphere of creative Shoreditch, just a 10-minute walk from Old Street.
Edinburgh House
170 Kennington Lane, SE11 5DP
Kennington - 8 min walk
In the footprint of Kennington Palace's old stables, Edinburgh House is a striking property brimming with inspiring offices.
338 Goswell Road
338-346 Goswell Road, EC1V 7LQ
Angel - 4 min walk
Striking former tobacco warehouse in the heart of Islington, just 4 minutes' walk from Angel station.
55 Bendon Valley
55 Bendon Valley, SW18 4LZ
Earlsfield - 10 min walk
Light industrial, office and studio space only 600 metres from Earlsfield station.
Barley Mow Centre
10 Barley Mow Passage, Chiswick, W4 4PH
Chiswick Park - 8 min walk
Brimming with history and charm, this former Sanderson Wallpaper factory is home to flourishing businesses in leafy Chiswick.
Bow Enterprise Park
Fittleton Gardens, E3 3TZ
Devons Road - 2 min walk
Situated just off Devons Road DLR station, Bow Enterprise Park provides fresh light-industrial spaces with a modern feel.
Cannon Wharf
Pell Street, Surrey Quays, SE8 5EN
Surrey Quays - 10 min walk
Set in Surrey Quays, Cannon Wharf is a stunning new development providing stylish studio space, just across the river from Canary Wharf.
Cargo Works
1 - 2 Hatfields, Waterloo, SE1 9PG
Blackfriars - 5 min walk
Stylish offices and studios by London's South Bank, with Blackfriars, Waterloo, Borough Market and London Bridge all within walking distance.
Chiswick Studios
9 Power Road, Chiswick, W4 5PY
Gunnersbury - 8 min walk
Chiswick Studios is known for its art-deco muted grey façade and striking external building design, inside boasting spacious lofty studios.