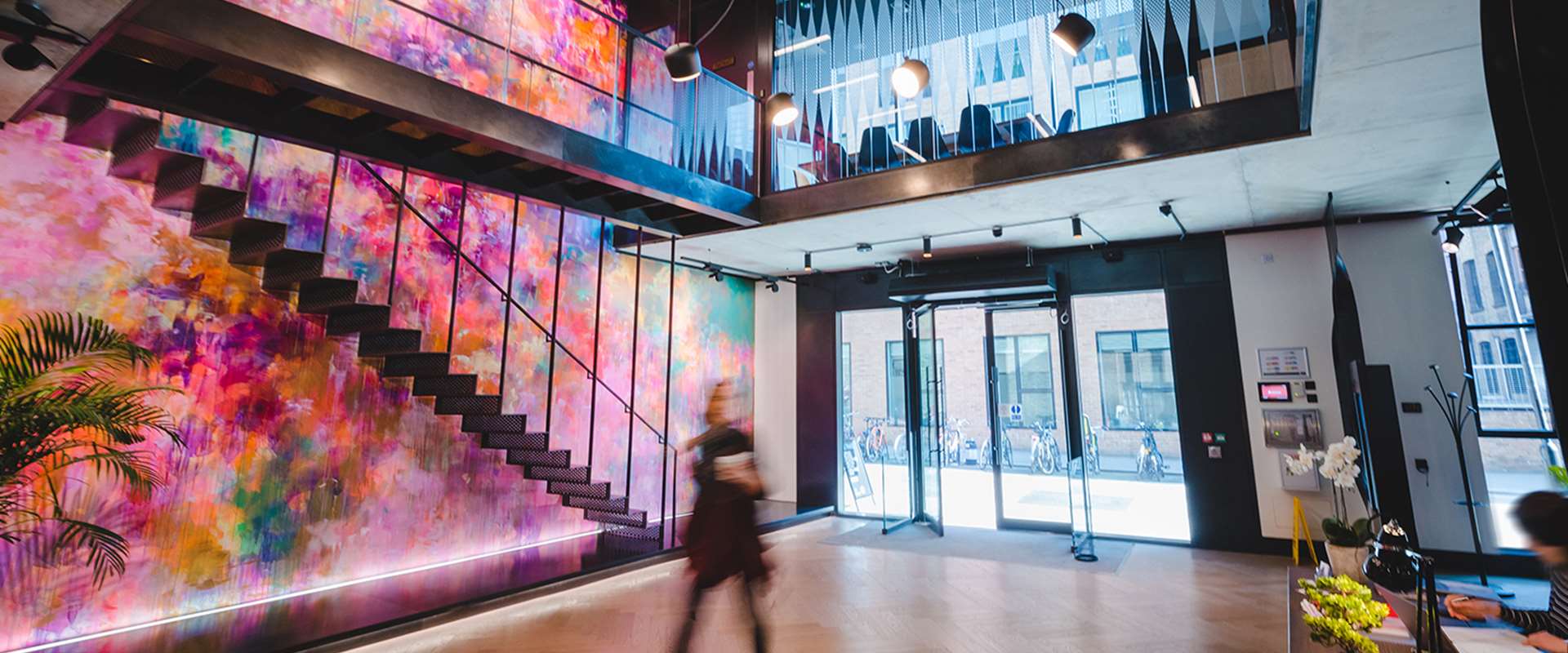 Workspace in london
Bow Enterprise Park
Fittleton Gardens, E3 3TZ
Devons Road - 2 min walk
Situated just off Devons Road DLR station, Bow Enterprise Park provides fresh light-industrial spaces with a modern feel.
Cannon Wharf
Pell Street, Surrey Quays, SE8 5EN
Surrey Quays - 10 min walk
Set in Surrey Quays, Cannon Wharf is a stunning new development providing stylish studio space, just across the river from Canary Wharf.
Cargo Works
1 - 2 Hatfields, Waterloo, SE1 9PG
Blackfriars - 5 min walk
Stylish offices and studios by London's South Bank, with Blackfriars, Waterloo, Borough Market and London Bridge all within walking distance.
Chiswick Studios
9 Power Road, Chiswick, W4 5PY
Gunnersbury - 8 min walk
Chiswick Studios is known for its art-deco muted grey façade and striking external building design, inside boasting spacious lofty studios. 
E1 Studios
3-15 Whitechapel Road, E1 1DU
Aldgate East - 2 min walk
Situated on Whitechapel Road, E1 Studios has a mixture of urban and off-beat charm and boasts office, studio and workshop space.
East London Works
75 Whitechapel Road, E1 1DU
Aldgate East - 4 min walk
Situated on Whitechapel Road, East London Works houses office, studio and retail space just minutes from the world-famous Brick Lane.
Exmouth House
3/11 Pine Street, Farringdon, EC1R 0JH
Farringdon - 9 min walk
On the corner of Exmouth Market, Exmouth House offers a spectacular atrium and stylish offices and studios, with panoramic views of London.
Fuel Tank
8-12 Creekside, SE8 3DX
Deptford Bridge - 7 min walk
Previously operating as a carburettor factory, Fuel Tank has been redeveloped as a modern base for small businesses in Deptford.
Grand Union Studios
332 Ladbroke Grove, W10 5AD
Ladbroke Grove - 12 min walk
Grand Union Studios is a stunning development with terraces overlooking the city and a wow-factor glass chandelier in the atrium.
Havelock Terrace
Havelock Terrace, SW8 4AS
Queenstown Road - 10 min walk
Nestled in Nine Elms, Battersea, Havelock Terrace comprises two buildings offering contemporary office, studio and light-industrial space.
Highway Business Park
Heckford Street, Tower Hamlets, E1 9HR
Limehouse - 9 min walk
Highway Business Park offers light-industrial, workshop and office space in Limehouse with great links to the City.
Ink Rooms
25-37 Easton Street, Clerkenwell, WC1X 0DS
Farringdon - 11 min walk
Next to Exmouth Market in Clerkenwell, former printing ink factory, Ink Rooms, has been transformed into stunning offices and studios.