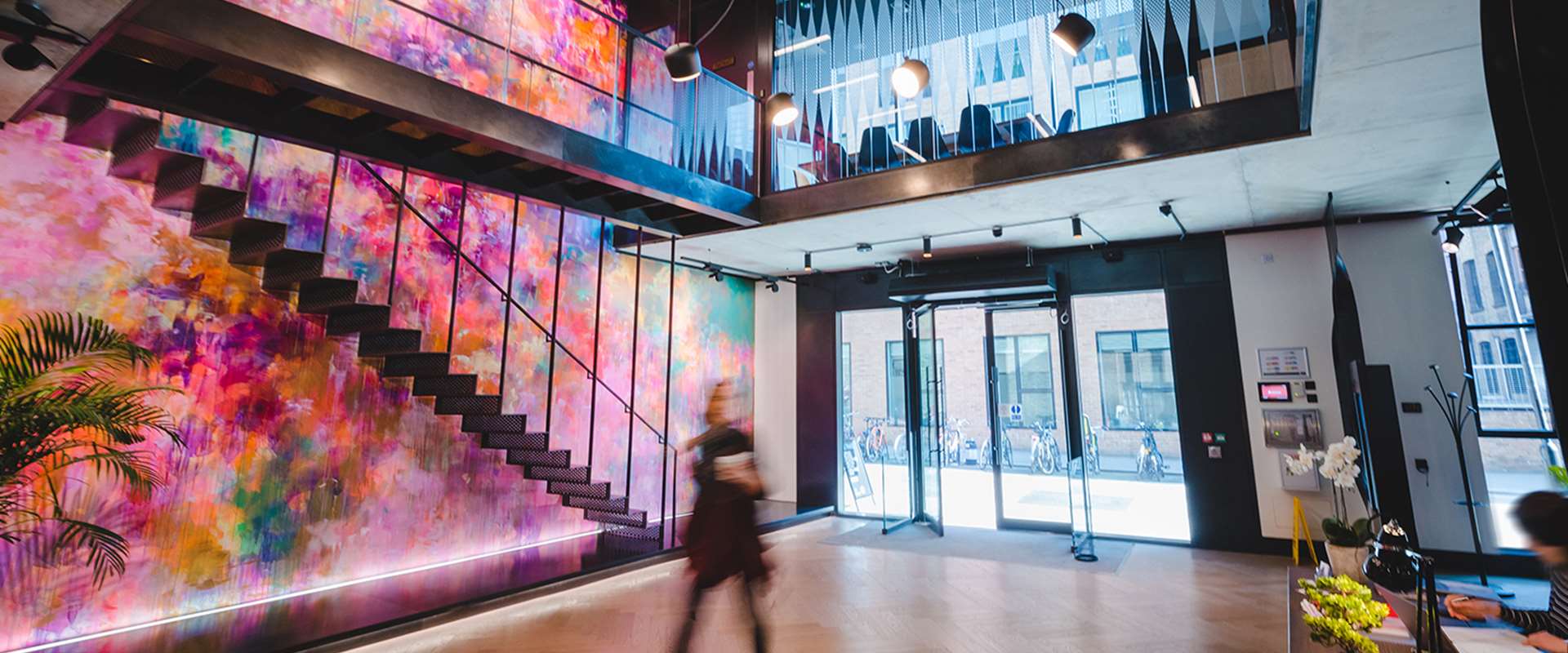 Workspace in london
ScreenWorks
22 Highbury Grove, Islington, N5 2EF
Highbury and Islington - 11 min walk
Comtemporary studios in leafy Highbury Fields boasts impressive city skyline views and a vibrant start-up community.
The Centro Buildings
The Centro Buildings, 20-23 Mandela Street, NW1
Mornington Crescent - 7 min walk
Former furniture depository, reborn into 7 stunning buildings for creative and ambitious companies, minutes from Regent's Canal.
The Chocolate Factory
Clarendon Road , Wood Green, N22 6XJ
Wood Green - 9 min walk
Formerly the largest sugar confectionery manufacturer in the world, reborn into a trendy Wood Green creative hub.
The Print Rooms
164/180 Union Street, Waterloo, SE1 0LH
Southwark - 5 min walk
Situated on a quiet cobbled street in the heart of wonderfully characterful Bankside, The Print Rooms is surrounded by amenities.
The Shaftesbury Centre
85 Barlby Road, W10 6BN
Ladbroke Grove - 18 min walk
Next to London's famous Notting Hill, The Shaftesbury Centre offers spacious office spaces, with easy access to central London.
Archer Street Studios
10/11 Archer Street, Soho, W1D 7AZ
Piccadilly Circus - 3 min walk
Home to modern industrial offices in the heart of London's electric Soho, moments from the notorious Great Windmill Street and Covent Garden.
Ink Rooms
25-37 Easton Street, Clerkenwell, WC1X 0DS
Farringdon - 11 min walk
Next to Exmouth Market in Clerkenwell, former printing ink factory, Ink Rooms, has been transformed into stunning offices and studios.
The Shepherds Building
Charecroft Way, W14 0EE
Shepherd's Bush - 4 min walk
Home to media, creative and professional businesses in a stunning developed warehouse building in Shepherd's Bush.
Swan Court
11 Worple Road, SW19 4JS
Wimbledon - 3 min walk
Chic, modern and full of natural light, Swan Court is a super stylish space in the very heart of leafy and well-connected Wimbledon.
Evergreen Studios
Little Green, Richmond, TW9 1QE
Richmond - 2 min walk
In the heart of South West London's tree-lined Richmond, Evergreen Studios is a newly renovated and purpose built office and studio space surrounded by some of London's most spectacular greenery.
One Castle Lane
1 Castle Lane, SW1E 6DR
Victoria - 8 min walk
One of the most prestigious addresses in town, this spectacular and tastefully refurbished Victorian building is neighbours with Buckingham Palace, the Royal Parks and Westminster Cathedral.
The Mille
1000 Great West Road, Brentford, TW8 9DW
Brentford - 5 min walk
The Mille is in the heart of thriving, professional Brentwood, which has recently benefited from an influx of investment.