Spotlight on Shepherd's Bush
Spotlight on Shepherd's Bush
When it comes to the ideal West London location, The Shepherds Building is head of the pack. Situated just moments from both Shepherd's Bush tube and railway stations, you'll find this revamped warehouse-style space ideally located amidst this bustling community.
With a bright and open meeting room and events space, The Shepherds Building looks the part with wooden floors and a comfy communal seating area with a pool table. There's an open-plan cafe too and you'd never guess that this was a former Inland Revenue office. Built in 1960 it retains choice elements of mid century charm, but is still a thoroughly modern space to work in, with plush sofas in lounge areas for relaxed catch-ups and coffee as well as sleek, minimally styled studio spaces.
Local lunch options are pretty impressive. Ochi is famously Rihanna's favourite Caribbean takeaway spot in town, with jerk chicken, ackee and saltfish and jamican patties to go, while Esarn Kheaw's Thai food has had a loyal following since the 1990s.
The sprawling Westfield isn't just handy for all your shopping and entertainment needs (it's got a Vue cinema and an All Star Bowling Lanes), it's a brilliant place to get food. We recommend their outpost of Soho favourite Balans, classy fast food at Bleecker Burger, sourdough pizza from Franco Manca, veggie-friendly feeds from Dirty Vegan, Korean chicken at Seoul Bird and Masterchef-winning Mexican at Wahaca.
High end dining options are also easy to come by, with Kricket White City offering enviable Anglo-Indian cuisine – try the Keralan fried chicken and samphire pakoras. There's world-renowned sushi from Endo at the Rotunda, which you can find in the spectacular old BBC Television centre building.
Pubs for an after work pint are plentiful. The Defectors Weld has long been the trendiest option in the area, though since the arrival of a branch of Brewdog it's had some stiff competition. Craft beer is also on the taps at Sindercombe Social, while the Princess Victoria and Queen Adelaide offer a more traditional drinking environment, with the latter doing great gastropub food. Be sure not to miss the lovely Albertine, an independent wine bar which has been going since the 1970s.
Hang about into the evenings and you'll find that the area is a cultural hub, with Shepherd's Bush Empire and Bush Hall two of London's finest gig venues. Not to mention Bush Theatre, the best place to catch incredible plays before they transfer to the West End.
For a bit of fresh air, Shepherd's Bush Green is right on our doorstep and there are lots of places to work out in the area. Gymbox Westfield offers fun HIIT and conditioning classes as well as a spin studio, boxing ring, sprint track and Olympic lifting.
Find out about this property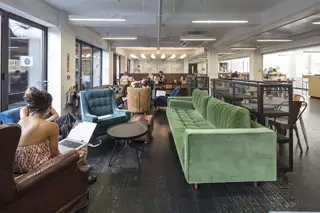 Find out about this property
The Shepherds Building
Charecroft Way, W14 0EE
Find out about this property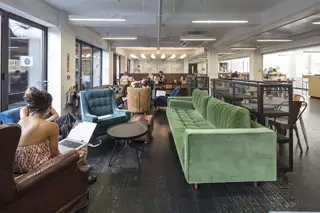 Find out about this property
The Shepherds Building
Charecroft Way, W14 0EE
10 March 2023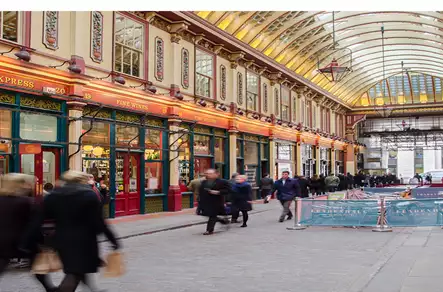 03 November 2022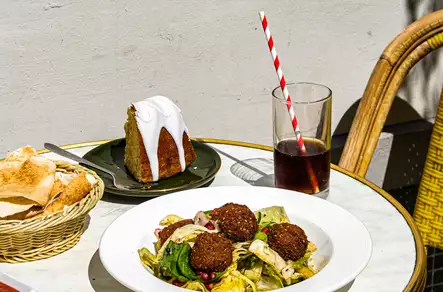 19 October 2022
About The Shepherds Building
Media hub with a lively community in the heart of Shepherd's Bush
Charecroft Way, W14 0EE
Show current property
Show all properties
Shepherd's Bush
4 min walk
At The Shepherds Building
Spaces from 185 - 11,045 sq ft
1 - 300+ people
1 meeting room
1 event space
Gold WiredScore connectivity
Centre Manager
Laura Gray
Laura brings a wealth of property and client-facing experience to The Shepherds Building. She enjoys meeting new businesses within the building and, being a newly converted vegan from Liverpool, Laura enjoys exploring London and finding the best secret dinner spots.